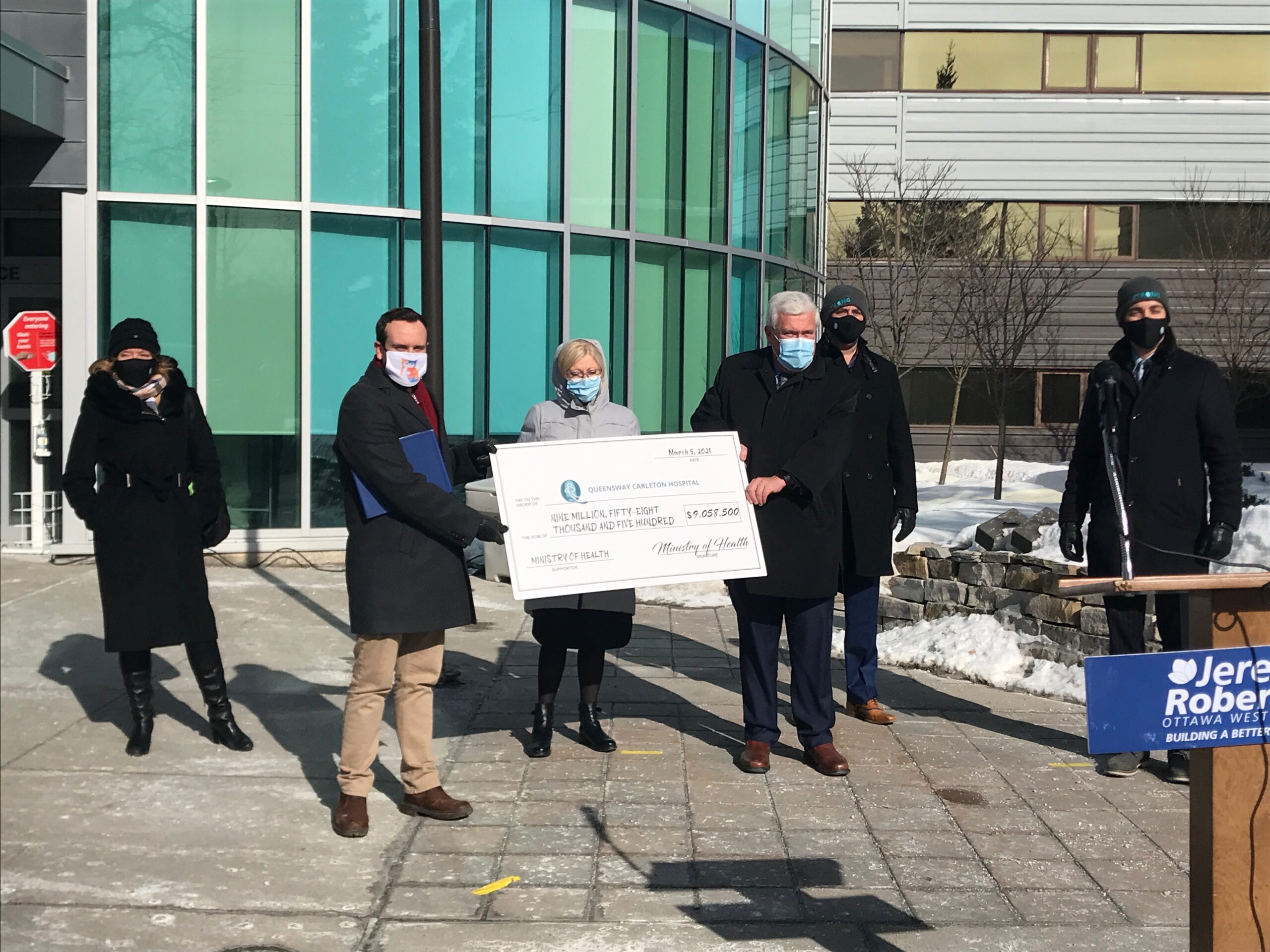 Queensway Carleton Hospital has received approval from the Ministry of Health and $9 million in funding to begin the expansion and rebuild of our Mental Health Unit. This project will improve and update the physical environment by renovating two existing departments along with building a new two storey addition.
This redevelopment includes additional inpatient beds and expanded outpatient mental health services, resulting in additional and faster access to care in Ottawa so that people can get the support they need when they need it.
"This expansion will enhance the exceptional medical care provided at our local hospital here in Ottawa West – Nepean," says local MPP Jeremy Roberts. "Mental health services are very important as our community manages these challenging times. I am thrilled that our Government is funding this important project."
"The Queensway Carleton is such an important part of Nepean and our Ottawa community," says Lisa MacLeod, Minister of Heritage, Sport, Tourism and Culture Industries, and Nepean MPP. "This major investment in the QCH Mental Health Unit will make a tremendous impact."
Dr. Merrilee Fullerton, MPP for Kanata-Carleton and Minister of Long-Term Care, says, "Thank you to Dr. Andrew Falconer, Ronald Richardson and everyone involved at the Queensway Carleton Hospital and its Foundation for advancing this important renovation."
Construction for the project is anticipated to begin in Spring 2021, with the project aiming to be completed in 2023.
"By rebuilding our Mental Health Unit, we can provide more people in our community with the care they need and improve the patient experience," says Dr. Andrew Falconer, President and CEO of Queensway Carleton Hospital. "Mental health supports for this community are more important than ever."
Once the Mental Health Unit is completed, it will include a secure outdoor courtyard for patients, additional spaces for group support, an area for exercise and a comfort room for patients to utilize when they need it.
Queensway Carleton Hospital's mental health program provides intensive and acute mental health inpatient beds, 24/7 emergency consultations, outpatient assessment and treatment, a recovery-oriented, group-based day treatment program, and an outreach clinic that provides telemedicine clinics to Arnprior Regional Health and Carleton Place District & Memorial Hospital.
"On behalf of the entire Queensway Carleton Hospital Foundation Board, I would like to acknowledge the overwhelming generosity of our community, who have raised a staggering $6 million for our HOPES RISING campaign, in support of a renovated Mental Health Unit at Queensway Carleton Hospital. With today's announcement, we are thrilled that these extensive renovations can now move forward, and that a renewed and therapeutic space that supports hope, healing and recovery is in sight for our patients. Hopes are rising for all in our community today," says Ronald Richardson, Chair, Queensway Carleton Hospital Foundation Board of Directors.
"It has been an honour for Erin and I to be ambassadors for this important project. It will mean so much to every patient, and to those who care for them, to have access to modern, comfortable facilities for mental healthcare at Queensway Carleton Hospital. We look forward to seeing the doors open in 2023," says former Senators hockey player, Chris Phillips, who with his wife Erin, are Honourary Chairs of HOPES RISING. 
HOPES RISING is a fundraising campaign launched in 2016 by Queensway Carleton Hospital Foundation to enhance and improve mental healthcare for a rapidly growing number of adults and families in West Ottawa. It is a campaign inspired by the hopes of families throughout our community to enhance acute mental health services for adults of all ages.