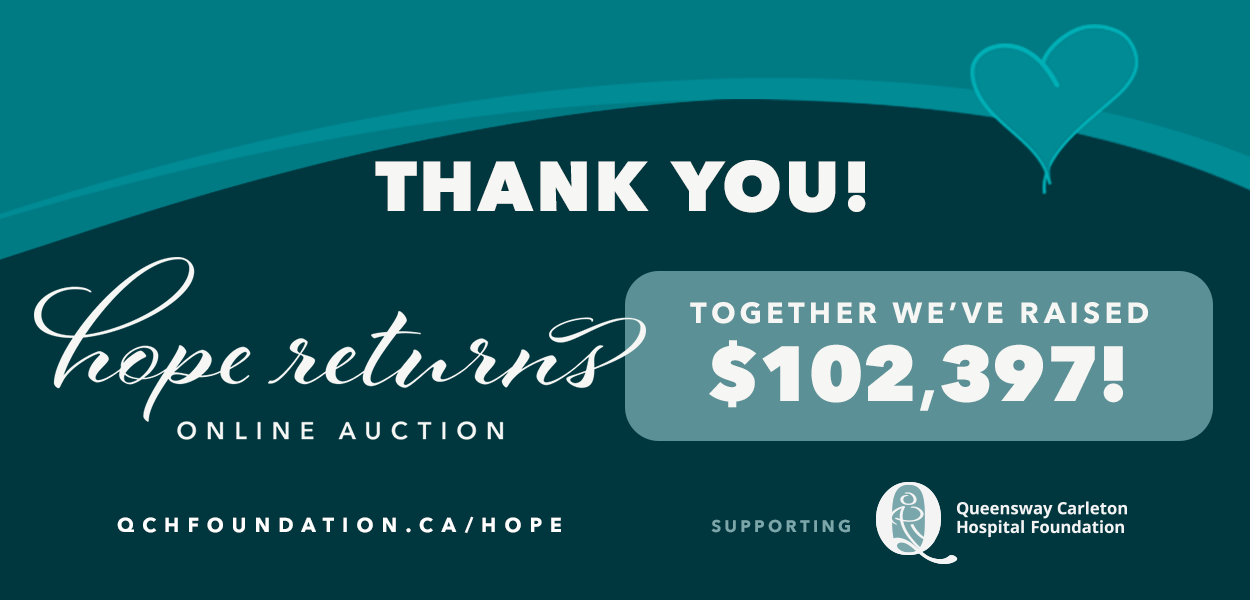 Thank you for supporting our Hope Returns Online Auction!
With amazing trips, technology devices and tickets to sporting events up for grabs, the Hope Returns Online Auction sparked a bidding frenzy last month and helped to raise more than $102,000 for QCH Foundation.
A huge thank you to our incredible sponsors – Accora Village, Brazeau Seller Law, Calian, Emond Harnden, BLG, Hyatt Place Ottawa West, 580 CFRA and Move 100.3.
One of the most sought after auction items was a custom live-edge oak dining table, crafted from a beloved tree that came down last May during the big storm. It fell just outside of the west entrance at QCH and inspired an act of generosity from a local woodworking specialist, Tim Holland. Tim donated his time and talents to create a custom live-edge table for QCH and hundreds of charcuterie boards out of the wood from the 150 year old tree.
When the auction closed, the winning bid on the table was an impressive $6,500. A huge thank you to all of the auction sponsors, donors and supporters.
Our Amazing Sponsors and Donors
Title Sponsor: Accora Village
Co-Presenting Sponsors: Brazeau Seller Law and Calian
Philanthropic Match Sponsor: Emond Harnden
Community Supporters: BLG and Hyatt Place Ottawa West | 580 CFRA and Move 100.3
Auction Item Donors:
Capital Services Snow Removal
Holiday Inn & Suites – Kanata
Mill Street Florist
Ritmo Baile Dance School
The Haunted Walk
Ottawa Marriott Hotel
Yuk Yuk's Comedy Club
Nutri-Lawn Ottawa
CPI Interiors
Diefenbunker: Canada's Cold War Museum
Little Ray's Nature Centre
Fairmont Château Laurier
Alan Dean Photography
Queenswood Stables
Farm Boy
Connie's Custom Gifts
Mr. Lube + Tires
Ingenium Canada's Museums of Science and Innovation
Kevin Haime Golf Centre
Aperitivo
The Keg Steakhouse
WestJet
Via Rail
Otto's BMW
Nettleton's Jewellery Limited
Ritchie Feed & Seed Inc.
Bell Sensplex
Scandinave Spa Vieux-Montréal
Talisman Flowers
Green Gables Vines
Catchy Beauty Eyelash Extensions
Outer Health
One Fine Beauty
Exhalo Spa
Pretty Pots Flower Shop
Myobalance Registered Massage Therapy
The Westboro Village BIA
Ruth Aaron
Arthur Murray Dance Ottawa
Wesley Clover Parks
Funding Innovation
The Custom Woodwork
Scrunch & Bunch
Panago Pizza
Equator Coffee Roasters
La-Z-Boy Home Furnishings & Décor
Costco Barrhaven
Dell
Dairy Distillery
Yorkville Asset Management
Sacred Essence Spa
Senators Community Foundation
Caress Electrolysis Ltd.
Peter Nicholson, President and Founder of The Foundation WCPD
Lacroix Source for Sports
Aiana Restaurant
Softwash Butler
Irwin Schweitzer
Toronto Blue Jays Baseball Club
Bridlewood Home Hardware
Maker House Co.
Children at Risk
Ottawa Senators
Ottawa Professional Firefighters Association (DJ Bryan Boswell, Ottawa Valley Meats, Beyond the Pale Brewing)
Lindsey Gibeau Photography
Broadway Across Canada
BellMedia
Toronto Maple Leafs
Roger Communications
Farmgate Cider
Queensway Carleton Hospital Board of Directors
Huntington Properties
Pam Stewart
Judith Anderson
An Nguyen