Peter Moo is an avid cyclist. He loves nothing more than to hit the open road on his hybrid Devinci bike and test his endurance on the bike paths around the National Capital Region.
While cycling is an amazing pastime, blending physical activity and the great outdoors with overall health and wellness – there is an element of risk involved. And, it was on a recent biking adventure that the 51-year-old would realize the possible dangers of cycling – and the importance of the team at the Queensway Carleton Hospital (QCH).
On April 12, Peter was cycling the Trans Canada Trail and enjoying the 17-kilometre ride so much that he lost track of time. As the sun started to set, Peter was quickly losing daylight and had to rely solely on his bike light to help him navigate the divots and debris that dotted the path. Sadly, his tire slipped into a rut, and he was thrown from his bike, landing squarely on his left shoulder. The landing was rough, but Peter picked himself up and pushed through and biked the remaining three kilometre distance to his home.
By the time he reached his house the pain was unbearable – and Peter's son rushed him to QCH for care. 
It was Peter's first time at the hospital, and the nurses, admin staff and doctors made sure he was as comfortable as possible. He underwent x-rays so doctors could pinpoint the source of the pain – a broken clavicle.
"Everyone was very clear about what was happening, and the nurse explained the next steps, which put me at ease," he recalls. "I was really impressed by how they put me first – they cared about my condition and what they could do to help me feel better."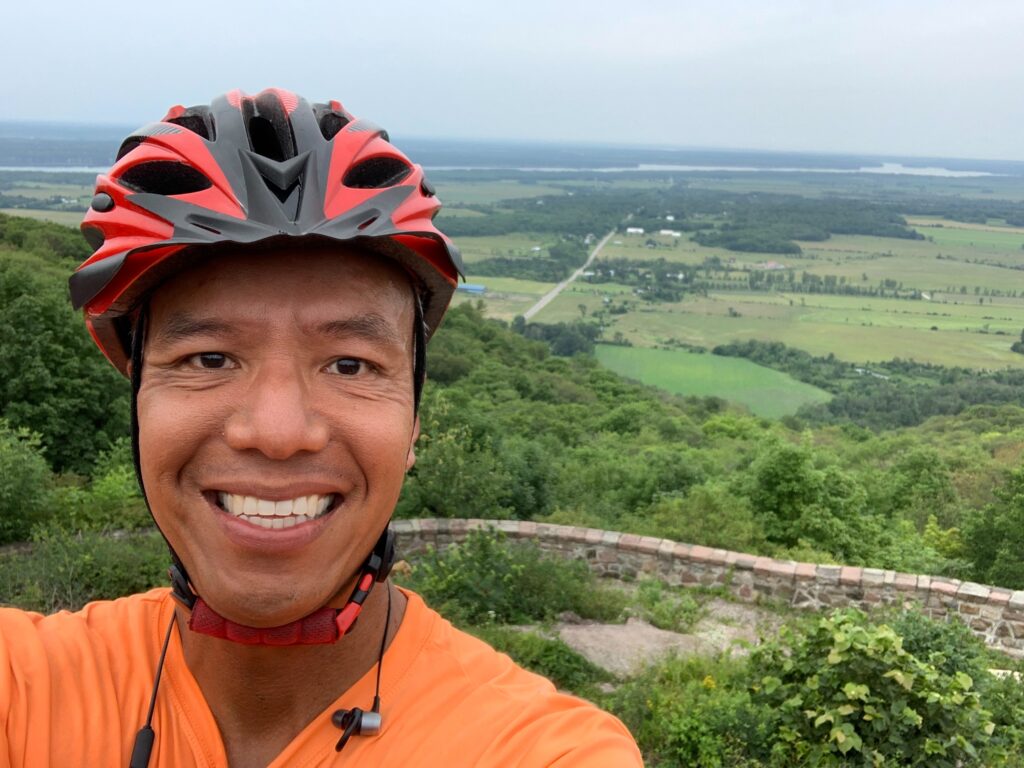 Shortly after diagnosis, he was taken to the Operating Room (OR) and prepped for surgery on his left clavicle. The procedure was a success, and Peter is expected to make a full recovery. While he is looking forward to getting back on his bike and out on the road, he is following doctors' orders and taking it easy for the time being. He is filling his spare time with light walking and reading.
Thankfully, Peter has been fortunate to have not needed medical attention over the years, but his recent experience at QCH has made him grateful for the exceptional medical care that is available to our community.
"Queensway Carleton Hospital is a really terrific place, and this experience made me realize that it's an amazing asset in our community," he says. "I was in a lot of pain and anxious when I arrived, but at every step through my care, someone was there to reassure me, guide me, and answer all of my questions. It was very comforting."
Thousands of patients, like Peter, rely on Queensway Carleton Hospital's surgical services every year, from simple diagnostic procedures to life-saving emergency care. 
Industry leading technology—the first of its kind in Ottawa—is being installed in all of the Operating Rooms at QCH. The surgical suites are getting the VIP treatment, upgraded with the latest smart software and hardware, will be made possible thanks to the incredible generosity of donors like you.
On November 29, QCH Foundation will be taking part in GivingTuesday – a special day designed to kick-start the giving season and inspire a global day of action.
Funds raised through our GivingTuesday 2022 Campaign will be directed towards upgrading one of the surgical suites at QCH. 
YOU can help us put this life-saving technology into the hands of the expert medical team at QCH this GivingTuesday. AND thanks to the generosity of our QCH physicians, all donations made to our #GivingTuesday Campaign will be MATCHED up to $25,000 meaning your gift will have double the impact!