One of Queensway Carleton Hospital (QCH) Foundation's most generous donors and long-time volunteer leaders recently had a heart-pounding experience he won't soon forget. 
In October, Carey Garrett actively participated in a demonstration involving QCH's new simulation training program, performing not on an actual patient but on the next best thing: a wireless, computer-controlled full-body patient simulator. 
Thanks to the Garrett Family Foundation's generous gift of $70,000, QCH foundation was able to purchase the high-fidelity human patient simulator for the medical staff to practise their life-saving skills. This new piece of state-of-the-art equipment will help QCH enhance its patient care and outcomes.
"They had me trying to do chest compressions. Certainly, your heart is racing; you're trying to get the right speed and depth of compression. It was very difficult."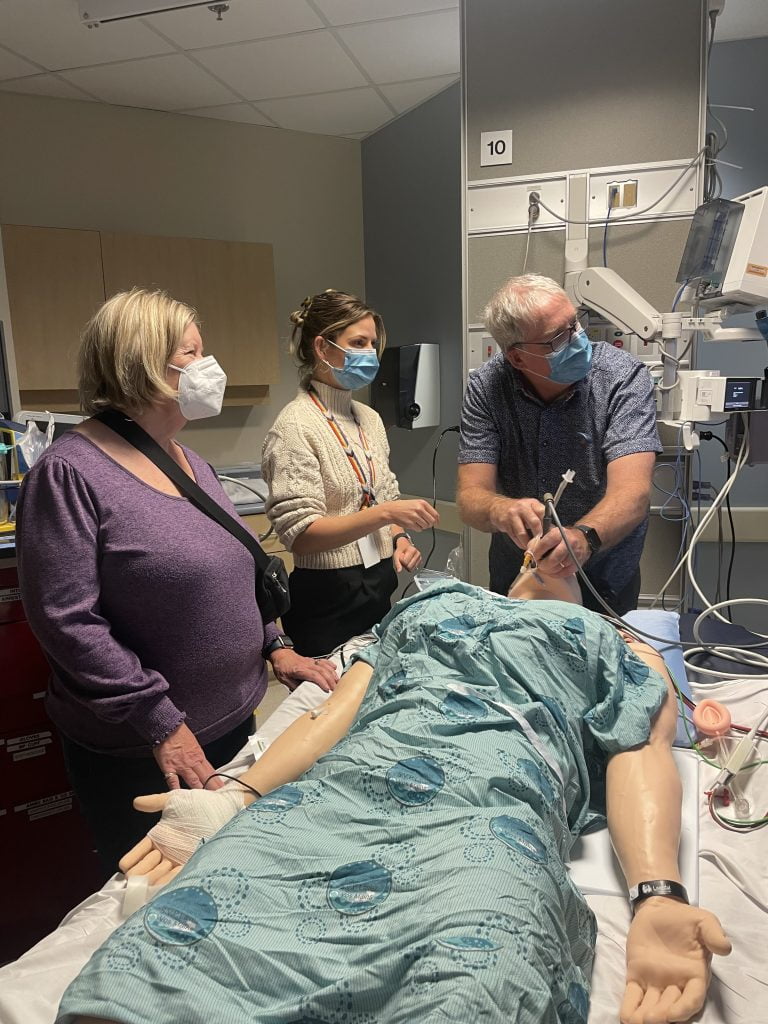 The Garrett family's support of QCH stretches back more than a decade. During the Care Grows West Campaign, Carey, along with his wife, Nancy, and their children, Meaghan and Ryan, cumulatively donated $2 million through their family foundation.  
The family has also given a tremendous amount of their time to QCH. Carey used to work in the tech sector, in development and product management at former JDS Uniphase. After he retired, he served on both the board of the hospital and our foundation, stepping up as board chair for the latter. Both Nancy, a former nurse, and Meaghan and Ryan have also volunteered at the hospital.  
As long-time donors, the Garretts were attracted to the idea of supporting the much-needed patient simulator because it matched their mission values to boost education, innovation and cooperation. 
"I really feel like the manikin is a great way to tie these values together because, it's a tool used for education, for people to practice new things that they've learned and try them out, to make sure they've got the technique down right without having to have a live patient there," said Carey. "On the cooperation side, it's usually people working as a team with the manikin, seeing what each other is doing and learning from each other. It's a very cooperative thing and I think it fosters a good team atmosphere. They're working together to solve what the issues are." 
What many people don't know is that government funding does not cover the cost of medical devices and equipment for hospitals, that is solely funded through the generosity of donors, such as the Garretts. 
The new patient simulator has become an "invaluable" part of the simulation program, said Dr. Maggie Kisilewicz, a critical care physician at QCH. "The program wouldn't work without it." 
The high-tech manikin can be used in a variety of simulation scenarios, from cardiac arrest to acute asthma exacerbation to severe bleeding to an anaphylactic reaction to a heart attack. "Simulation is very useful in teaching team dynamics and situational awareness in really stressful and critical patient encounters," said Dr. Kisilewicz. "Everybody is able to learn to work together in a very organized way when the stakes are very high." 
It also helps healthcare workers learn procedural skills, like how to intubate a patient properly or use a defibrillator, Dr. Kisilewicz added. "Practising on a simulator you can get a lot of experience and can build muscle memory and expertise, so that when you do have a real patient encounter, you feel better prepared." 
If you would like to support the purchase of leading medical devices, like the manikin, for QCH – please donate here.