Woodworking specialist Tim Holland, wife Rachel Groskopf and their four-month-old daughter, Rowen, born last June at Queensway Carleton Hospital, are joined by QCH Foundation president and CEO Shannon Gorman at the family's home in the rural village of Ashton. Photo by Caroline Phillips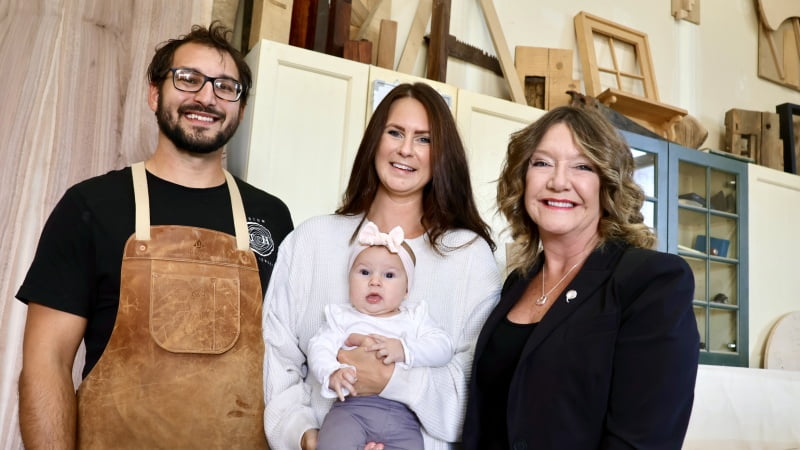 Tim Holland uses wood from fallen oak to build dining table for QCH Foundation auction
By Caroline Phillip, Ottawa Business Journal
Area resident Tim Holland headed to the Queensway Carleton Hospital last June for the most joyous of occasions, the birth of a child. Little did he know that he would not only leave with a healthy newborn daughter but, eventually, a 150-year-old bur oak tree, as well.
The mighty oak had fallen, one of the unfortunate casualties of the severe storm that swept through Ontario and parts of Quebec a couple weeks earlier.
Holland noticed the tree, still sprawled outside the west entrance of QCH, while strolling around the hospital grounds with his very pregnant wife, Rachel Groskopf. She was trying to move her contractions along in order to be admitted into the hospital's birth unit.
Holland posed for a photo of himself next to the oak. The picture was snapped by his wife, who, being in the early stages of labour, probably had other things on her mind. But, Holland, who's a woodworking specialist and owner of TH Custom Woodwork, knew there was treasure in that tree.
"It had been there longer than the hospital," said Holland. "I was thinking it was too much of an important tree to be sent to a (wood) chipper and destroyed. I was hoping to at least save part of it."
Some 10 hours later, baby Rowen arrived safely. It wasn't until the family was back home in rural Ashton that Holland posted the image of himself next to the tree on Instagram, sharing his dream with QCH of salvaging the wood to make single-slab dining tables.
That's when QCH Foundation came up with an even better idea: have him build a table for its Hope Returns Online Auction.
Holland agreed without hesitation. "It will go to a good home eventually, and it's nice to support the Foundation," said Holland, who has a soft spot for health care workers — his wife works for the Canadian Nurses Association.
The table is also Holland's way of thanking QCH for its excellent care in the delivery of Rowen and her big sister, Kennedy, who's two and a half. "The two most important people in my life now, since I've started my new chapter as a father, are my two daughters."
Holland used a portable chainsaw mill to cut eight large slabs, each one weighing about 450 pounds. He transferred the slabs onto a trailer with the help of a buddy, Eric Young from Grassroots Furniture.
The wood will be put in a kiln to dry in the spring, when conditions are ideal. Before building his table, Holland will have to put in a little elbow grease to sand the wood slab and fill in the voids and knot holes until the surface has a smooth finish. He expects it will take him three to four weeks to complete the table, once the wood is kilned dry. The finished product will be worth about $10,000, he estimated.
It will be a 10-foot-long table, big enough to comfortably sit at least a dozen people. "It will have to be the right home," said Holland of its size.
As for its durability, he added, the buyer "will have a table that lasts forever."
Holland is also using some of the leftover timber to make charcuterie boards the QCH Foundation can gift to donors and auction off. As for the rest of the slabs, he said, "I'm not sure. I'm going to sit on them for awhile."
Queensway Carleton Hospital Foundation president and CEO Shannon Gorman said the contribution being made by Holland to the auction not only speaks volumes to his character but is just one example of how the community wants to get involved and make a difference. "There are so many stories like this right now, where people are looking to give back and show their support for health care," said Gorman.
The Hope Returns Online Auction starts this Wednesday at 10 a.m. and runs until Wednesday, Oct. 26th at 9 p.m. The auction is being sponsored by Accora Village, with co-sponsors Brazeau Seller Law and Calian. BLG has signed on as community partner and Emond Harnden LLP has agreed to match donations, up to $10,000.
Big-ticket items also include a backyard barbecue served by members of the Ottawa Fire Services, two tickets to see the Ottawa Senators take on the Maple Leafs in Toronto, a Sens Suite at the Canadian Tire Centre, paintings by Ottawa artist Katerina Mertikas, a trip to Exuma, Bahamas donated by Foundation WCPD, flowers for a year from Talisman Flowers, and ice rental at Bell Sensplex.
Tim Holland was at Queensway Carleton Hospital in June for the birth of his second child with wife Rachel Groskopf when he paused to get a photo of himself next to this old oak tree, blown over in the severe storm that hit parts of Ontario and Quebec a couple weeks earlier. Photo by Rachel Groskopf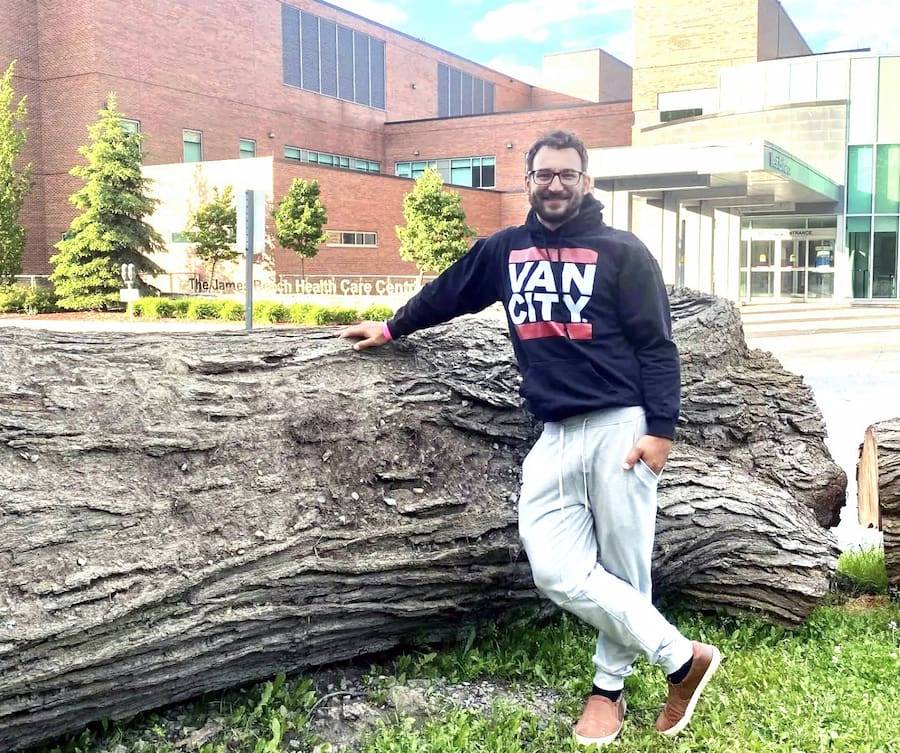 Tim Holland and Rachel Groskopf were at Queensway Carleton Hospital last June for the birth of their second daughter, Rowen, who's now four months old. Photo by Caroline Phillips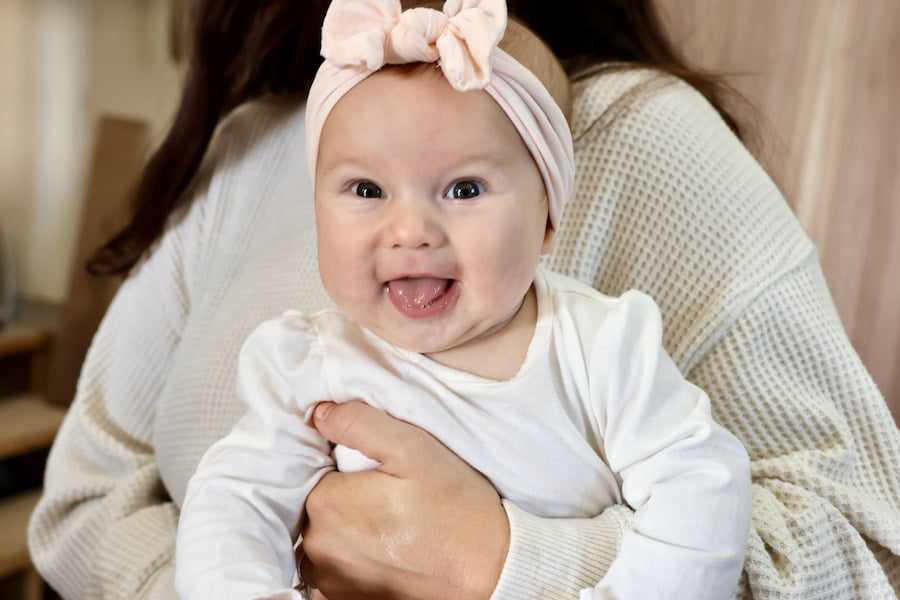 The giant oak tree that fell outside the Queensway Carleton Hospital during the severe storm last spring was cut into slabs of wood, with one slab being used to build a solid oak table for the Queensway Carleton Hospital Foundation's Hope Returns Online Auction that starts Oct. 12th . Submitted Photo.