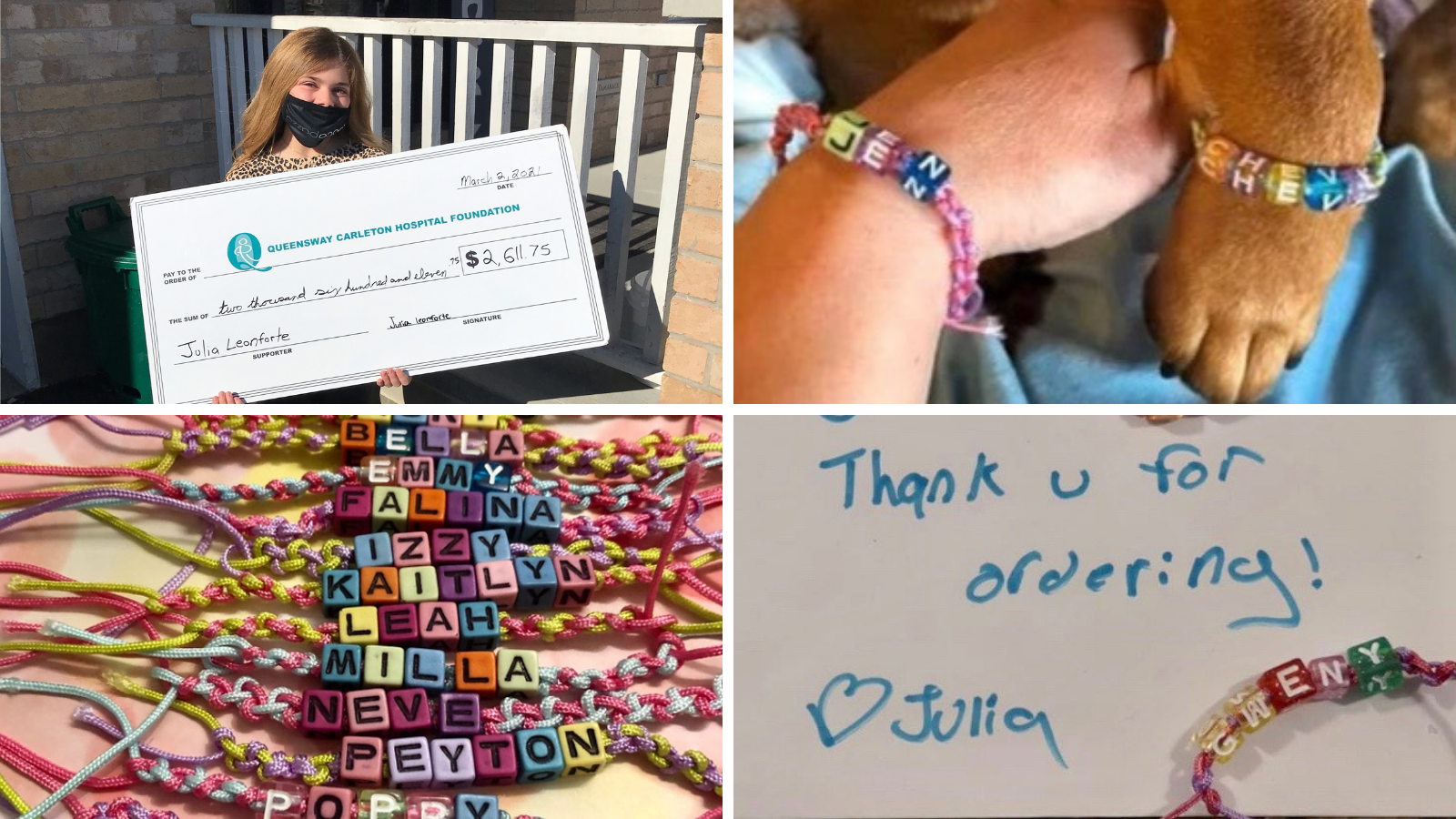 During the first month of the pandemic last year, Julia, only 10 years old at the time, watched her parents, owners of Poco Pazzo, donate hot meals to our Queensway Carleton Hospital (QCH) team. Her parents wanted to support healthcare workers at QCH as they battled COVID-19 on the frontlines.
While Julia was at home during the pandemic, she wondered, 'how could I make a difference?'
Inspired by her parents generosity, she came up with the idea to create and sell handmade bracelets, to help raise urgently needed funds for QCH.
"My dad and my three siblings would go to work and I would just make bracelets, so I came up with the idea to help people… I wanted to raise money for them (the QCH team) to get masks and other things like that," Julia explains.
What was originally a hobby of Julia's, turned into a fundraising initiative that raised more than she could have ever imagined. With her incredible efforts, Julia raised an amazing $2,611 for QCH Foundation.
only a fourth grader at the time, Julia recognized the important work of our frontline healthcare team, and was determined to support them. This was her special way of saying thank you to our team for all that they do to protect us from COVID-19.
"They are just extremely awesome for helping all those people and I am super proud of them, and they deserve everything for helping everyone," says Julia.
The QCH Foundation team are incredibly grateful for Julia's giving spirit, and inspired by this young entrepreneur and philanthropist's drive to support our hospital. Julia's message to our community rings true – that no matter who you are, how old you are, or how you help, you can make a huge difference for our hospital: "Anyone can make a difference. Any kids can make a difference. I did not know that my bracelet company would come this far. The littlest thing can make a difference," Julia adds.
This wonderful gift will help ensure that our healthcare team have the tools and equipment they need to ensure that QCH can continue to provide the highest level of care possible to all those needing access to our services during COVID-19 and beyond.
Thank you Julia – we are so grateful for your support!